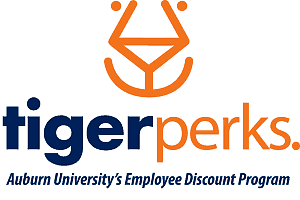 Tiger Perks is a benefits program for the employees of Auburn University. Auburn University makes no warranties or endorsement of the goods and services offered by participating merchants.
Tiger Perks FAQ

What is "Tiger Perks"?

Tiger Perks is a benefits program for Auburn University and Auburn Montgomery employees providing substantial savings to AU employees in their everyday purchases simply by showing their valid AU ID when shopping at participating merchants.

Who receives "Tiger Perks"?

Tiger Perks are available to all full-time and part-time University employees with a valid Auburn or AUM ID.
Auburn University does not endorse, warrant, or verify the information provided on this website. Any issues related to transactions that take place as a result of information provided are between the individual employee and the organization providing the discount. If you have difficulty receiving the discount, please notify our office.