COSAM » News » Articles » 2012 » October
October
Donald E. Davis Arboretum and Environmental Awareness Organization to host Native Plant Workshop
10/29/2012

The Donald E. Davis Arboretum and the student-run Environmental Awareness Organization will co-host a native plant workshop, "Let us Help You Connect With Native Alabama," on Monday, Nov. 5 at 5 p.m. in 112 Rouse Life Sciences Building. Participants will discuss why native plants are important and what ecological services they provide, and have an opportunity to order native plants. There is no cost to attend, and the workshop is open to the public. For more information, send an email to email arbinfo@auburn.edu.

Click here to read more...
---
SCB visits caves in North Alabama
10/23/2012

Auburn University's chapter of the Society for Conservation Biology (SCB) visited caves in Jackson County Alabama for the third year in a row October 20-21, 2012. Led by Jim Godwin of the Alabama Natural Heritage Program, 9 members visited 5 caves on Saturday, seeing cave salamanders, cave crayfish, cave crickets, bats, and Allegheny woodrats (among other sights). On Sunday, we visited the Nature Conservancy's Keel Mountain Preserve to see the federally endangered plant, Morefield's Leatherflower, before returning to Auburn via the Talladega Scenic Drive to enjoy the fall foliage. 

Click here to read more...
---
Internal grant triggers interdisciplinary work and multiple projects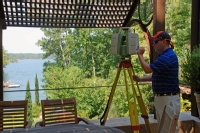 10/05/2012

Luke Marzen, professor in the College of Sciences and Mathematics, or COSAM, and Art Chappelka, professor in the School of Forestry and Wildlife Sciences, or SFWS, spurred collaboration between Auburn University and the U.S. Geological Survey Alabama Water Science Center to produce an exact, three-dimensional model of the Toomer's oaks. The model provided both a means of measuring the overall health of the trees, as well as documentation of the historic oaks. It was produced using a tripod-mounted laser scanner, also known as terrestrial light detection and ranging, or T-LiDAR. The T-LiDAR sends out a laser that scans anything within range and produces a three-dimensional replica. 

Click here to read more...
---
SCB visits Gulf Coast Zoo, Bon Secour National Wildlife Refuge, and Splinter Hill Bog
10/01/2012

Auburn University's chapter of the Society for Conservation Biology (SCB) had its first-ever two-night field trip Sept. 28-30, 2012.  Ten members left Auburn late Friday afternoon and drove to the Nature Conservancy's Splinter Hill Bog, where we spent the night in their house located right on the Preserve. The next morning we drove to Gulf Shores to visit the Gulf Coast Zoo (where AU alum and former SCB member Jessica Larson now works). After lunch, we met with Dr. Mike Wooten of our department at Bon Secour National Wildlife Refuge to tour the beach and dunes, which are habitat for the federally-endangered Alabama Beach Mouse (found nowhere else in the world). We returned to the Splinter Hill house to spend the night, and then spent Sunday morning touring the pitcher plant bogs of the reserve to round out a very full weekend of conservation-oriented activities!

Click here to read more...
---