Candidate B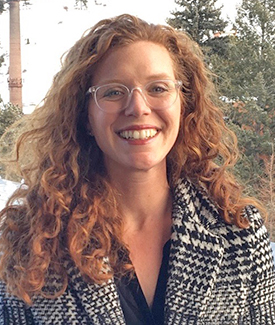 Dr. Anna-Margaret Goldman
Anna-Margaret Goldman is an experienced director with a passion for education. She graduated from Miami University of Ohio in Organizational Communication and received her Master's degree and Ph.D. in Higher Education Administration at The University of Alabama.
Following college, Anna-Margaret served as an AmeriCorps VISTA and continued her work as a Youth Development Coordinator for The Flagship Program, an afterschool program in Missoula, Montana. During her time in graduate school at UA, she worked with the Center for Service and Leadership to help run a school-based mentoring program in Tuscaloosa city and county schools. From 2016 to 2020, Anna-Margaret led MonTECH, Montana's assistive technology program, housed at the Rural Institute for Inclusive Communities to provide tools for people with disabilities across the state. She has served as a Professor of Practice in the Department of Public Administration and Policy at the University of Montana teaching Grant Writing, Volunteer Management, and Fundraising courses.
Goldman is currently the Director of TRIO Upward Bound at the University of Montana helping low-income and first-generation high school students attend college. She is the Principal Investigator of the 2 million dollar grant from the Department of Education. Goldman also wrote and manages ESSER Summer Enrichment, Afterschool Grant, and Summer Food Service Program from Montana Office of Public Instruction.
When not working, Anna-Margaret loves to read, be outdoors, and spend time with her family and friends.
Curriculum Vitae Evaluation Survey
Additional Information
The evaluation survey is open from Friday, November 18 — Friday, November 25, 2022.
If you were unable to attend the public presentation and would like to view the recording, email outtech@auburn.edu to request.
Last Updated: November 16, 2022