Arthur appointed director of Auburn University Outreach's Government and Economic Development Institute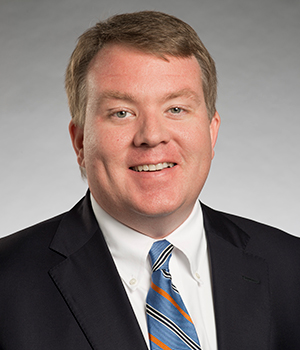 Jeremy L. Arthur has been named director of the Governmental and Economic Development Institute (GEDI), a unit of Auburn University's Division of University Outreach. Arthur was recommended by a search committee after candidate interviews in November. Arthur is currently president & CEO at Chamber of Commerce Association of Alabama and will assume the role of GEDI director in February.
"Jeremy Arthur is a highly respected and effective civic professional with extensive experience in promoting community engagement and economic development across Alabama," says Royrickers Cook, vice president for University Outreach. "He has led a very successful statewide organization as well as overseeing an exceptional base of programming and services for state and local civic agencies and officials. I'm looking forward to Jeremy's leadership at GEDI, and to the University Outreach team."
A lifelong Alabamian, Arthur is a two-time Auburn graduate with a Bachelor of Arts in political science, and an MPA in public administration. He currently has completed coursework towards his Ph.D. in public administration and public policy at Auburn. Before his current position, Arthur worked as a research assistant at the former Economic Development Institute in University Outreach and as an instructor in AU's Department of Political Sciences. After 8 years with the Prattville Area Chamber of Commerce, Arthur assumed his current position as president of the state Chamber of Commerce Association in 2012. He also serves as an instructor for U.S. Chamber of Commerce Foundation's Institute for Organization Management in Washington, D.C.
A graduate of Leadership Alabama, Arthur serves on numerous national and state boards and advisory councils including the U.S. Chamber of Commerce Committee of 100, the Governor's Advisory Commission on Small Business, Alabama School Readiness Task Force, the Business Council of Alabama, the Economic Development Association of Alabama, as well as the Auburn Alumni Association and College of Liberal Arts Dean's Advisory Council. He also is active in local civic and community service organizations including the YMCA and Rotary.
Established in 1976, the Government and Economic Development Institute promotes effective government policy and management, civic engagement, economic prosperity, and improved quality of life for the State of Alabama and its communities. As director, Arthur will oversee GEDI's extensive training, consulting, policy research, and economic development programs including the Economic Development Association of Alabama (EDAA) Leadership Institute, the Alabama Local Government Training Institute, the U.S. Department of Commerce's Economic Development Administration (EDA) University Center Program, and many other long-standing and highly respected initiatives.
"Working for Auburn as GEDI director is an exciting opportunity to serve my home state and to give back to my alma mater," says Arthur. "I'm looking forward to working with the GEDI and University Outreach teams to promote economic and governmental best practices for public officials and citizen stakeholders all across Alabama as part of Auburn's great mission of Outreach."
Last Updated: January 5, 2021