Hope Stockton appointed Director of Professional and Continuing Education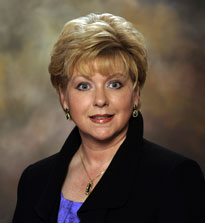 Hope Stockton was recently named Auburn University's Director of Professional and Continuing Education in the Office of the Vice President for University Outreach. Previously, Stockton served as Executive Director of the Blue Ridge Conference on Leadership in Auburn's College of Business.
In her new role, Stockton will be responsible for administrative, financial, and academic management of the Office of Professional and Continuing Education's diverse non-credit program offerings. The largest provider of interdisciplinary non-credit instruction on campus, OPCE provides high quality, fee-for-service, lifelong learning programs to the citizens of Alabama and beyond. The office also offers conference and event management services to faculty and university departments.
"Hope Stockton brings the vision, experience and capacity to support and strengthen existing offerings, and develop new continuing education programs," says Royrickers Cook, assistant vice president for University Outreach. "She is a great addition to the University Outreach team."
Stockton earned a bachelor's degree in finance and history from Huntingdon College, a master's degree in management from Troy University, and is a PhD Candidate in Adult Education at Auburn University. She brings 23 years of administrative and financial management experience to the office along with extensive experience in planning, developing, and administering professional and continuing education programs. She also holds several certifications as a corporate trainer.
Stockton's start date as director of OPCE will be September 1, 2011.
Last Updated: October 24, 2018