Junior E.A.G.L.E. Camp: May 29 – June 3, 2022
Rising 6th – 8th Grade
Exploring Agriculture & Gaining Leadership Experience (E.A.G.L.E.) Camp is an opportunity for 6th-8th grade students to gain hands-on experience in the science and agriculture worlds. Campers will complete labs within different agricultural disciplines including Animal Sciences, Horticulture, Turfgrass, Biosystems Engineering and many others. The labs will be STEM based activities led by College of Agriculture faculty that will help students solve real-world problems.
There will be tours of the research units, a field trip to a local farm, a service project at a local family-owned farming operation, and more! All of this in addition to the traditional social activities associated with summer camp (swimming, pizza parties and much more) make E.A.G.L.E. Camp a fun and productive experience.
Camp participants will experience campus-life while residing in Auburn's resident dormitories, eating at campus dining facilities, and enjoying evening social and recreational activities. Campers will have 24/7 counselor supervision.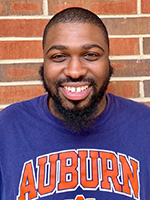 Ronald Davis
Ronald Davis is a Ph.D. student in Agriscience Education. Originally from Clinton, Maryland, Ronald graduated from Tuskegee University with her undergraduate degree in Animal and Poultry in 2012 and a Master of Science degree in Animal Science in 2020. Ronald's focus in his program is to diversify the field of Agricultural Education and create opportunities for urban youth. In his spare time, he enjoys horseback riding, biking, and giving back to his community.
---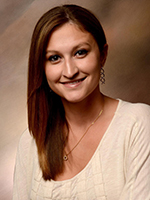 Alex McLeod
Alex McLeod is a Ph.D. student in Agriscience Education. She is from Rogers, Arkansas. Alex graduated from the University of Arkansas with a B.S. in Agricultural Education, Communications and Technology (2017) and a M.S. in Agricultural and Extension Education (2021). Alex worked with the University of Arkansas' Cooperative Extension Service as an Expanded Food and Nutrition Education Program educator for three years while pursuing her master's degree. Alex is passionate about agriculture, education, community engagement, and community development. Alex enjoys educating adults and youth about agriculture with the goal of increasing agricultural literacy. In her free time, she enjoys spending time with her family and her dog, Woody!
Registration begins December 1st, 2022 at 9AM.
---
Camp fees are $725 and include the following items:
On campus housing
All meals, snacks and drinks while at camp
Program instruction, materials and equipment
Transportation to and from off-campus field-trip sites
Recreational activities
---
Cancellation Procedure:
All cancellation requests must be submitted via email. Please send your request to auyouth@auburn.edu.
Cancellation Procedure:
Cancellation request received at least 4 week prior to the start date of the program: Full refund, less $40.
Cancellation request received less than 4 weeks prior but at least 2 weeks prior to the program start date: Refund of 50%
Cancellation request received less than 2 weeks prior to the program start date or "no show": No refund.
Note: Refunds will be issued to the individual/organization who made the original payment.
Scholarship Applications have closed for this camp.
What to Bring to Camp:
Please pack lightly – but do not forget to bring bedding, a towel, and toiletries.
Campers should refrain from bringing no more than one (1) suitcase and one (1) personal sized bag to camp.
Dorm Room:
XL twin sheets/thick blanket or sleeping bag and pillow
Alarm Clock
Phone Charger
Toiletries:
Shampoo/Conditioner
Body Wash
Toothbrush and Toothpaste
Soap
Bath Towel
Hairbrush
Clothing & Shoes:
T-shirts: Loose fitting, tank tops must have straps three fingers wide and cover all undergarments
Shorts: At least 3.5" inseam
One (1) pair of jeans/long pants
Underwear
Socks
Pajamas
Tennis Shoes: We walk up to 6 miles daily!
Closed toed shoes
Swimsuit: For girls, a modest one piece swimsuit. For boys, no speedos or jammers.
Flip-flops or Water Shoes: For the pool
Sweatshirt or Jacket
Dress up Outfit: Dressy casual (modest) outfit (e.g.: modest sundress, polo & khakis, pants & blouse)
Rain Jacket or Poncho
Miscellaneous:
Laundry Bag
Hat
Sunglasses
Beach Towel: For the pool
Bug spray/Sunscreen
$50 key/meal card deposit: Make check payable to Auburn University
Optional:
Last Updated: July 26, 2022