Auburn University Young Professionals
Overview
Auburn University Professional and Continuing Education is proud to partner with the Office of Information Technology to present Auburn University Young Professionals.
Auburn University Young Professionals (AUYP) aims to provide an opportunity for connection between upper level administrators and the young professionals of Auburn. During our free one-hour interactive programs, young professionals will have a chance to hear the stories and advice of those in influential positions across campus. Attendees will also be provided the opportunity to submit questions for the speaker in advance or ask their own during the program. This series will focus on providing professional development, networking amongst peers, and collaboration of resources across Auburn University.
AUYP programs are offered at no cost to attendees. We do ask that you register for the event to ensure proper meeting space.
---
Upcoming Programs
June 28, 2022 | 1:00p.m. – 2:00p.m.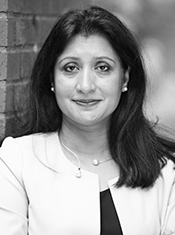 Dr. Vini Nathan
Interim Provost, Auburn University
Vini Nathan began serving as Auburn University's interim provost and vice president for academic affairs in March 2022. Since 2011, Nathan has served as dean and McWhorter Chair of the College of Architecture, Design and Construction. She is also a tenured professor of Architecture and Interior Architecture and is a Senior Fellow of the Design Futures Council (DFC).
As interim provost, Nathan is the university's chief academic officer and oversees the university's tripartite mission, including providing the academic supervision of Auburn's campus. Working with faculty, staff, students, alumni, and other stakeholders, Nathan ensures the university maintains the highest possible scholarly activity, outreach, and teaching and learning programs. In carrying out these responsibilities, Nathan works directly with the deans of the 12 colleges, the university's shared governance groups, university administrators, student leaders, and other Provost's Office team members.
---
Past Programs
Last Updated: June 15, 2022