COSAM » News » Articles » 2012 » November
November
Arboretum creates stormwater tour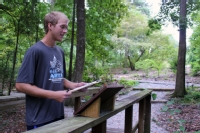 11/13/2012

The Donald E. Davis Arboretum is home to more than 500 species of native-Alabama plants. Many factors work to sustain the plant life in the arboretum, including sunlight and nutrients from the soil. Perhaps most important to plant survival, however, is water. Vegetation at the arboretum receives water from a variety of sources, including irrigation, and, most often, rainfall. While rainfall is a much needed resource for plant life, it can also be a destructive force on ecosystems, resulting in erosion and even death.

Click here to read more...
---
Drs. Shannon and Stanbury receive endowed Professorships
11/02/2012

President Jay Gogue, Provost Timothy Boosinger and Interim Dean Charles Savrda presided at a ceremony on October 10, 2012 to recognize the award of several endowed professorships to members of the faculty.  Among those honored were Professor Curtis Shannon and Professor David Stanbury of the Department of Chemistry and Biochemistry. Dr. Shannon now holds the Andrew T. Hunt Professorship and Dr. Stanbury now is the J. Milton Harris Professor. 

Click here to read more...
---