May
Professor Emeritus Dave Worley develops cost-effective, staph-resistant bandage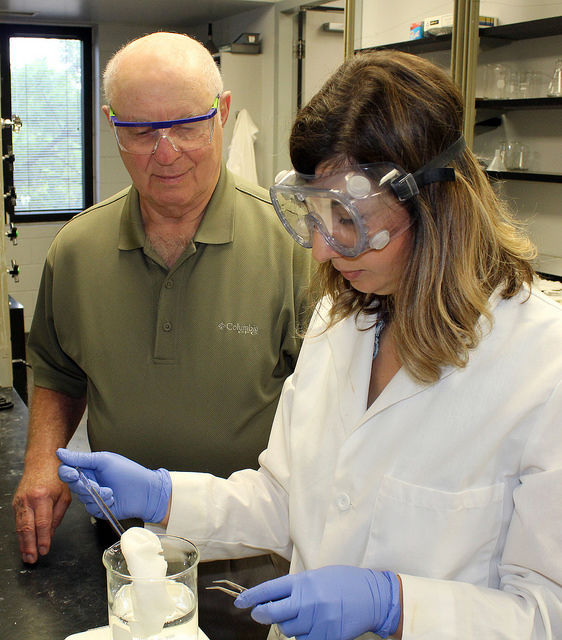 05/22/2017

Staph infections affect thousands of people each year, often occurring as a person recovers from surgery or a wound. But an Auburn University professor has developed a better bandage that could keep people from becoming infected. Professor Emeritus Dave Worley of the Department of Chemistry and Biochemistry in the College of Sciences and Mathematics is applying his patented N-halamine chemistry to gauze bandages to kill any bacteria that might contact a wound. "A 2-inch-square bandage would cost only 3-4 cents more than a regular bandage," Worley said. "We tested it on Staphylococcus aureus and Pseudomonas aeruginosa. It kills them before they can infect the wound. Once a person becomes infected, the bacteria are hard to kill, especially if they are resistant to antibiotics." Worley's process works by soaking the gauze in a solution of alcohol and an N-halamine compound containing chlorine. When the alcohol evaporates, the remaining solid, bacteria-killing compound adheres electrostatically to the bandage. "You can shake the bandage, but the compound won't come out," said Worley, who says current bandages with silver also kill bacteria, but they are costly at up to $500 each. "We are at least as effective as silver at only a fraction of the cost." Worley's research shows that N-halamine bandages should be kept away from light prior to use. "Our stability is good if you keep the bandages in opaque packages," he said. "Most wound dressings are replaced every one to two days, so ours are effective throughout the time they are worn."

Click here to read more...
---
Honoring the best: COSAM outperforms the rest at Phi Kappa Phi awards ceremony
05/17/2017

The Auburn University Chapter of Phi Kappa Phi held the annual initiation and awards ceremony at the end of spring semester. Founded in 1897 at the University of Maine, Phi Kappa Phi is an honor society that recognizes and promotes academic excellence in all fields of higher education and engages the community of scholars in service to others. Of the 10 awards bestowed at the 2017 ceremony, COSAM students received five.

Click here to read more...
---
Claire Zhang and William Mills receive Andrew C. Connor Memorial Award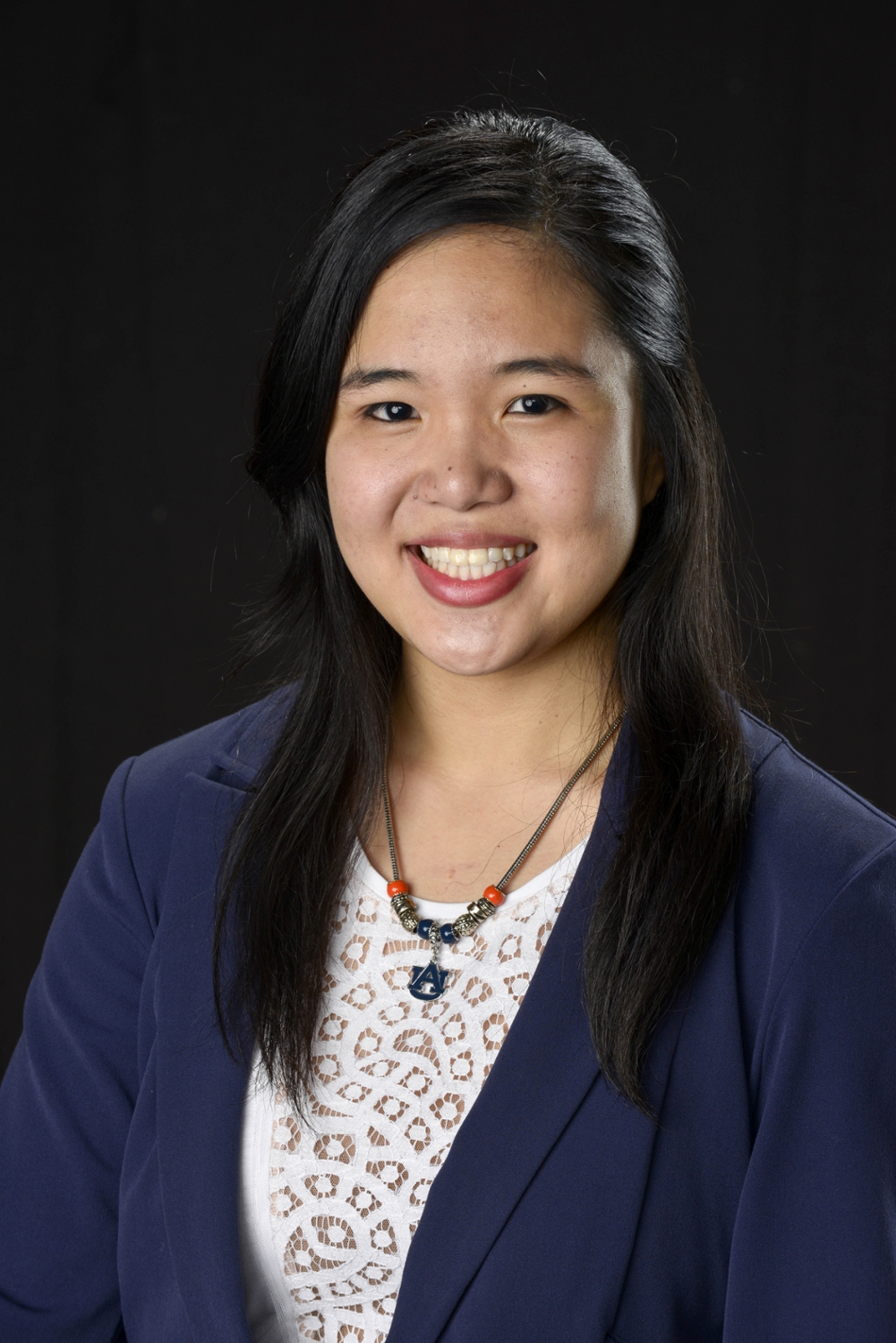 05/17/2017

Recent undergraduate mathematics students William Mills and Claire Zhang were named co-recipients of the Andrew C. Connor Memorial Award. The award was established by friends and relatives of the late Andrew C. Connor and recognizes the most creative undergraduate student(s) enrolled in math classes.

Click here to read more...
---
Weerasinghe accepts visiting assistant professor position at Illinois Wesleyan University
05/11/2017

PhD student Ms. Kariyawasam (Ganesha) Weerasinghe has accepted a visiting assistant professor position in the Department of Mathematics at Illinois Wesleyan University. Dr. Yanzhao Cao is her advisor.

Click here to read more...
---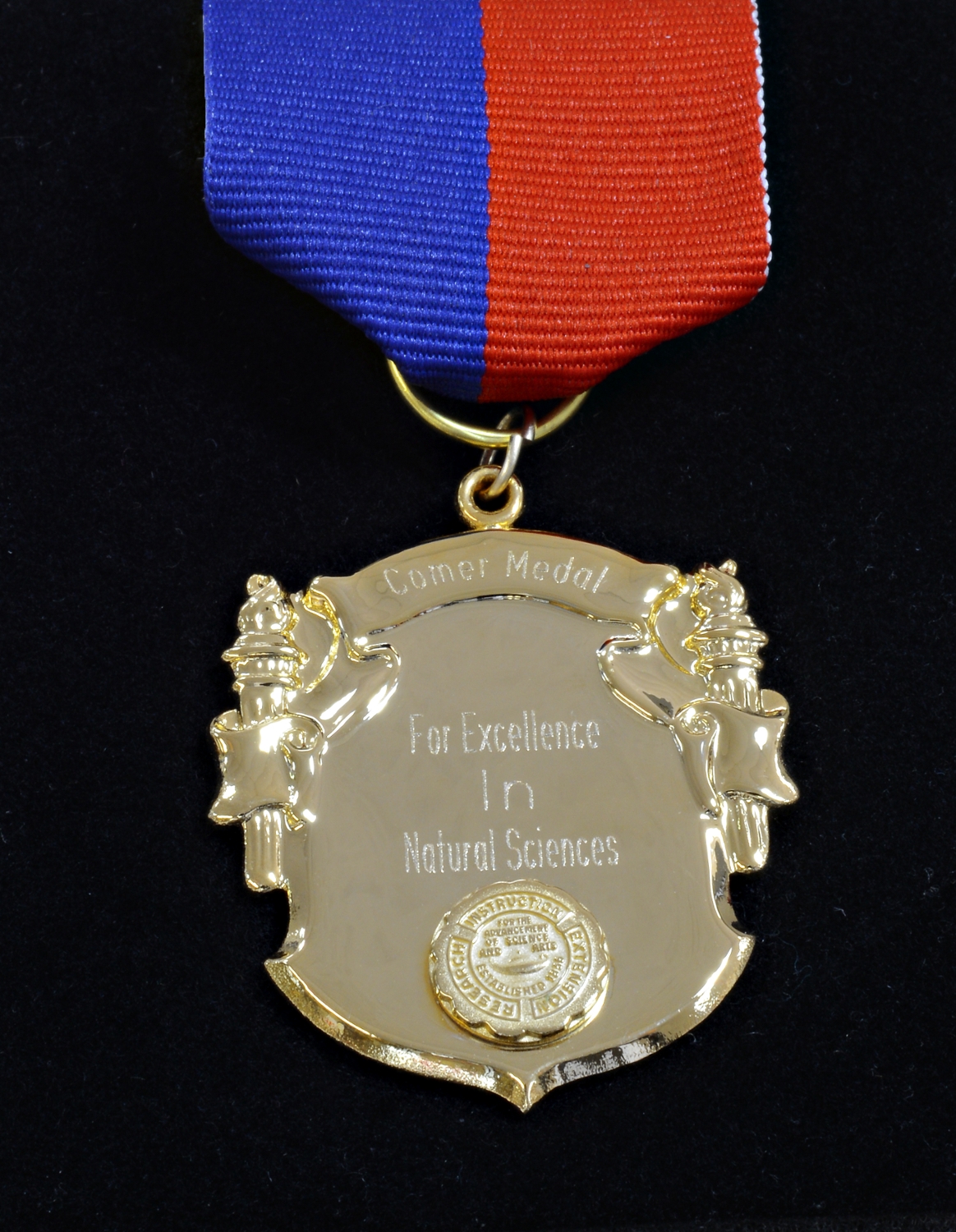 05/04/2017

The Comer Medal was established in 1923 by former governor Braxton Bragg Comer to recognize the most outstanding student in the natural sciences. Beginning in 1924, a single medal was given annually until 1970, when it was decided that two medals, one in the physical sciences and one in the biological sciences, would be awarded each year. In 1989, it was decided that a third Comer Medal would be presented each year to a student in the field of agriculture.

Click here to read more...
---
Celebrating Achievement with Tradition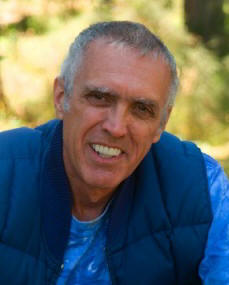 05/04/2017

COSAM recognized top students and faculty at the annual Honors Convocation, which took place on April 22 in the Auburn University Student Center Ballroom. Each year, the Honors Convocation is dedicated to a retired COSAM faculty member, and this year's ceremony was held in honor of Stephen Kempf, (pictured), retired professor in the Department of Biological Sciences.

Click here to read more...
---
Lin awarded an NSF continuing grant for 2017 - 2020
05/04/2017

Dr. Junshan Lin was awarded an NSF grant. This is a continuing grant in a total amount of $236,004 for the project entitled "OP: Scattering and Imaging of Subwavelength Nanostructures: Asymptotics and Algorithms" and the funding period is September 1, 2017 - August 31, 2020. The project will focus on examining fundamental mathematical issues and developing computational methods for new and important classes of problems arising from the optical wave scattering and imaging of nano-structures, which have significant applications in modern physics and engineering. Congratulations Junshan!

Click here to read more...
---
Progress in Approximation Theory and Applicable Complex Analysis edited by N.K. Govil is available.
05/01/2017

http://www.springer.com/us/book/9783319492407

Click here to read more...