About OLLI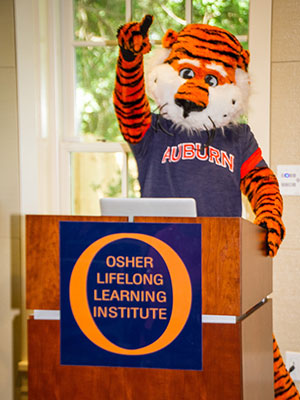 OLLI at Auburn is a membership program for learning in retirement for adults 50 years and older. As a member led, member driven lifelong learning program, OLLI members participate in leadership through the OLLI Advisory Council and committees. The OLLI director leads the administration of OLLI while the OLLI program coordinator manages day to day operations. OLLI is a program of Auburn University Outreach, Office of the Vice President for University Outreach.
There are 125 Osher Lifelong Learning Institutes (OLLIs) spanning all 50 states and the District of Columbia. Each is an independently operated lifelong learning initiative of its host college or university and is supported in part by The Bernard Osher Foundation.
Membership
There are no requirements for membership in OLLI at Auburn. Semi-retired and retired people, aged 50 years and older make up the majority of our membership; however, working and those younger than 50 years old are welcome to join. Each member shares in the continued development of OLLI. Activities are designed to promote the participation and involvement of members.
Last Updated: November 30, 2022