Auburn University Bands » Ensembles » Symphonic Winds » Auditions
About the Symphonic Winds and Concert Band
The Symphonic Winds is the premiere performing ensemble in the Auburn University Band Program. Conducted by the Director of Bands, Dr. Rick Good, membership is by audition and is open to any Auburn student. Scholarship money is also available for some students who are selected for the band. The band rehearses three hours per week during fall semester and five hours per week during spring semester.
The Concert Band, conducted by the Associate Director of Bands, Dr. Corey Spurlin, is the second performing ensemble of the Auburn University Band Department. The group is open by audition to any Auburn student with high school band experience. The ensemble performs two concerts during the spring semester, with each program consisting of a variety of traditional and contemporary band literature. The concert band rehearses four times per week during spring semester with one hour of academic credit awarded for participation. This credit may be used as an elective in any curriculum.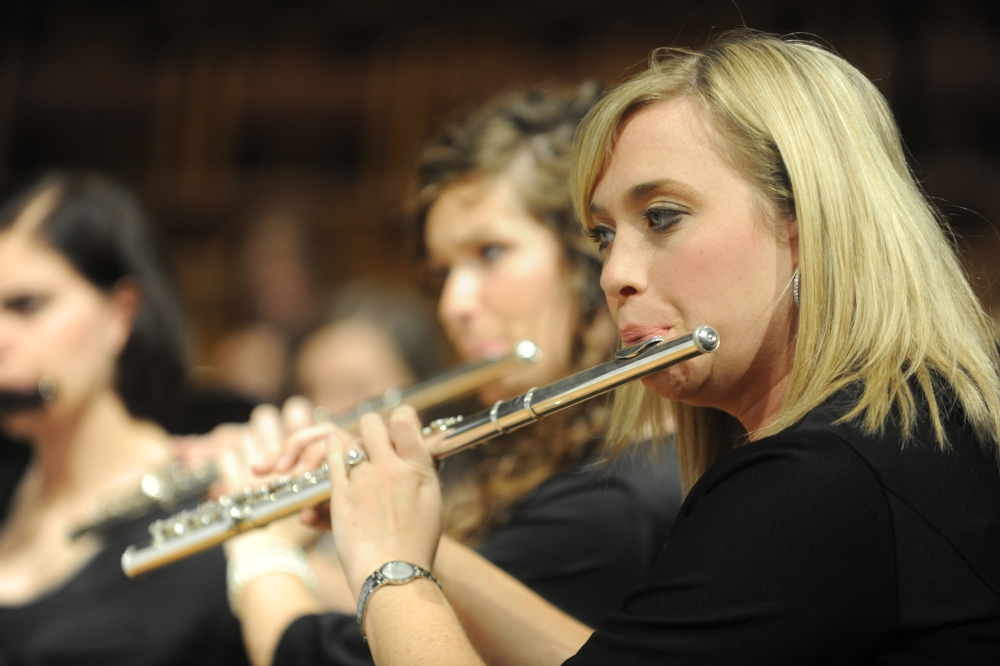 Auditions for the Auburn University Symphonic Winds will be submitted virtually. Please upload your audition video and complete the included form no later than August 16 at 12:00 pm.

Please keep in mind:
Distance to your device's microphone can affect sound quality. A five (5) foot distance from the microphone is recommended.

You must be included in the frame of the video. No audio-only submissions will be allowed.

Multiple file types will be accecpted, but the preferred file type is MPEG (mp4/m4v/mpg/mp3-audio).

File uploads are limited to 1GB.

Please name your videos with "Lastname_Firstname_Instrument"

For example: TheTiger_Aubie_Trombone

Audition videos should be one continuous recording.

Audition videos must be unedited.
How to Join
Symphonic Winds and Concert Band auditions are held preceeding each semester. All auditions (Woodwind, Brass and Percussion) consist of three parts.
Auditions will consist of:

Two specific scales for each instrument provided in the chart below.




The full chromatic range of your instrument from the lowest note you can play to the highest note you can play.

A prepared etude, provided on our website below.
Scales
Instrument
Scale 1
Scale 2
 Audition Music
Credit
One hour credit is available for participation in any of our concert groups. This credit may be used as an elective in any curriculum.
Cost
Members of the Symphonic Winds and Concert Band supply their own formal attire for concerts. There is no other cost except tuition. Band members do NO fund raising.
Directors
Director of Bands, Dr. Rick Good
Associate Director of Bands, Dr. Corey Spurlin
Contact
AUBURN UNIVERSITY BANDS
132 Goodwin Music Building
Auburn University, AL 36849-5421
Phone: (334) 844-4166
Fax: (334) 844-3170
E-mail: band@auburn.edu
Last Updated: 07/28/2021