Stuart Miller bio page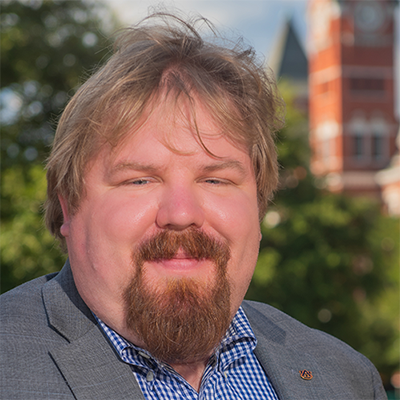 Stuart Miller
Assistant Director Academic,
Data Acquisitions & Reporting
Stuart Miller serves Auburn University and the Office of Academic Insight as the Assistant Director for Academic Data Acquisitions & Reporting by leading the data collection and reporting efforts for the undergraduate Creed to Succeed graduation course, the incoming student Connecting the Creed course, and various other special projects.
Prior to joining the team, Stuart most recently served as Assistant Dean of Students at Young Harris College, located in Young Harris, GA, where he had direct oversight of the Office of Residence Life and the Office of Student Activities & Greek Life, as well as serving as a Deputy Title IX coordinator and student conduct officer.
Stuart is a two-time graduate of LaGrange College, located in LaGrange, GA, having earned a Bachelor of Arts in History and a Master of Arts in Teaching.
Stuart lives in Auburn with his wife, Jaime, who serves Auburn University as the Director, Student Academic Support and their GSP/Lab Mix, Truman the Dog.
Last updated: April 07, 2022