COSAM » News » Articles » 2014 » April
April
GIS Project Links Restaurants and Farmers
04/29/2014

$summary

Click here to read more...
---
Ziaul Haque is awarded AAPG grant
04/29/2014

Congratulations to Ziaul Haque, for winning the American Association of Petroleum Geologists (AAPG) Weimer Family grant! Ziaul is a geology graduate student studying the petrofacies evolution of coarse clastics from the Cahaba Basin, Alabama, under the direction of Dr. Ashraf Uddin. He is the only graduate student to receive an AAPG award this year from the State of Alabama, and he also received a grant recently for the same project from the Geological Society of America (GSA).

Click here to read more...
---
Chemistry Department Announces Graduate Student Awards
04/29/2014

Chemistry Outstanding International Graduate Student: Catherine Njeri

Click here to read more...
---
Two from COSAM receive NACADA Excellence in Advising Awards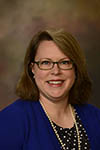 04/28/2014

The National Academic Advising Association selected Elizabeth Yarbrough, Ph.D., and Kathryn Milly West for 2014 Region 4: Excellence in Advising awards. The awards are presented to individuals who have demonstrated qualities associated with outstanding academic advising of students.

Click here to read more...
---
PNAS article by Christian Goldsmith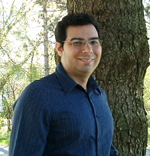 04/25/2014

Associate Professor Christian Goldsmith is a co-author of an article entitled "Two-photon imaging of Zn2+ dynamics in mossy fiber boutons of adult hippocampal slices" that will appear in the Proceedings of the National Academy of Sciences. The latter journal is among the most selective of general-interest science publications.

Click here to read more...
---
Duncan lecture featured discussion of quasars and black holes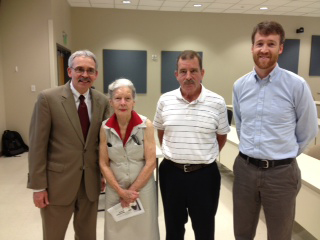 04/25/2014

The annual Duncan Lecture was held on April 23, and featured Bradley M. Peterson, professor and chair of the Department of Astronomy at The Ohio State University and a member of the NASA Advisory Council's Science Committee and chair of the Astrophysics Subcommittee. The title of his lecture was, "Solving the Quasar Mystery: A 50-Year Quest," and featured discussion of quasars, which are among the most distant and intrinsically brightest objects in the universe, but also small and dense. Quasars are powered by spectacularly massive "black holes," objects so dense that not even light can escape from them. Peterson related the story of how quasars and supermassive black holes and their role in the cosmos have come to be understood. To listen to the lecture online, click here.

Click here to read more...
---
Acevedo appointed as first Worley Professor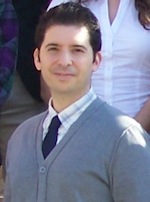 04/24/2014

Associate Professor Orlando Acevedo has been selected to become the first S. D. and Karen Worley Professor in the Department of Chemistry and Biochemistry.  The five-year term of this appointment begins on August 16, 2014.  Emeritus Professor and Mrs. Worley created this endowed professorship to support superior faculty who teach in the fields of organic, physical or polymer chemistry, to strengthen the research and teaching programs of the Department of Chemistry and Biochemistry and to recognize strong commitment to instruction, research and service of high quality.

Click here to read more...
---
Loch named SGA Outstanding Faculty Member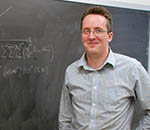 04/23/2014

Stuart Loch, associate professor of physics, was selected as the recipient of the SGA Outstanding Faculty Member Award for the College of Sciences and Mathematics. The award is presented to one faculty member from each of the university's schools and colleges. Nominated by students, recipients are chosen for respect of their peers and students, excellence in teaching, and concern for and involvement with students.

Click here to read more...
---
Department hosts Nobel Prize winning physicist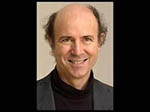 04/18/2014

The Littleton-Franklin Lecture in Science and Humanities was held on April 15 and featured Nobel Prize winner Frank Wilczek, Herman Feshbach Professor of Physics at Massachusetts Institute of Technology. The lecture was co-sponsored by the Department of Physics and the Office of the Provost. Wilczek's talk was titled, "Expanding the Doors of Perception: The Physics of Color Vision," and detailed his work in the area of particle physics. He shared the Nobel Prize in physics in 2004 for his discovery of the idea of Asymptotic Freedom, which is the notion that the behavior of subatomic particles extremely close to one another is the opposite of their behavior at great distance. His recent book, "The Lightness of Being: Mass, Ether, and the Unification of Forces," aims to make Asymptotic Freedom and other central ideas of contemporary physics understandable by a general audience. In addition to the Nobel Prize in physics, he has received numerous awards and honors, including UNESCO's Paul Dirac Medal, and being named a MacArthur Fellow and a Sloan Foundation Fellow. For more information on Wilczek, click here.

Click here to read more...
---
Reaching those with special needs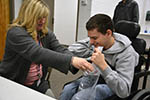 04/17/2014

Auburn University serves more than 800 teachers and upward of 25,000 K-12 students in an eight-county region through the Alabama Math, Science, and Technology Initiative. The AMSTI program is the Alabama Department of Education's state-funded, K-12 education program, designed to initiate and sustain improved statewide mathematics and science teaching and learning.

Click here to read more...
---
SEC's Auburn University Faculty Achievement Award presented to biological sciences professor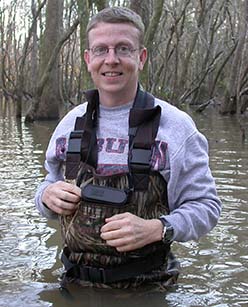 04/09/2014

AUBURN UNIVERSITY – Auburn University and the Southeastern Conference announced today that Professor Geoffrey Hill of the College of Sciences and Mathematics has been honored with the SEC's Auburn University Faculty Achievement Award for 2013-2014.

Click here to read more...
---
American Chemical Society Award for Symon Gathiaka
04/08/2014

Symon Gathiaka, a member of the research group of Associate Professor Orlando Acevedo, has been awarded a Chemical Computing Group Excellence Award for Graduate Students from the Computers in Chemistry Division (COMP) of the American Chemical Society (ACS).  A ceremony in honor of Mr. Gathiaka will take place in August during the ACS's national meeting in San Francisco.

Click here to read more...
---