COSAM » News » Articles » 2014 » June
June
Natassia Buckridge wins poster award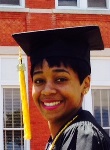 06/26/2014

The first place award for posters in Science, Technology, Engineering and Mathematics during Auburn University's 2014 Research Week was given to Natassia Buckridge, a graduating senior who worked under the supervision of Professor Stewart Schneller.

Click here to read more...
---
06/17/2014

COSAM IT recently upgraded the server backend software which presents virtual desktops to students, faculty, and staff. This upgrade brought numerous improvements the most significant being support for Google Chromebooks.

Click here to read more...
---