Outreach
Department of Geosciences
Sigma Gamma Epsilon ΣΓΕ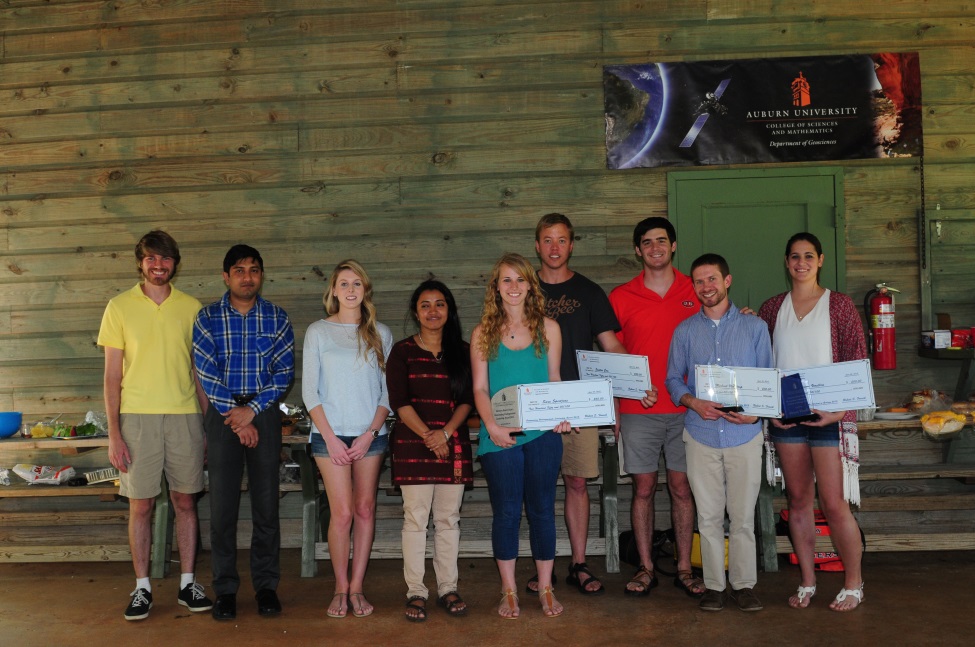 The only Earth Science Honor Society, Sigma Gamma Epsilon (SGE), has been active at Auburn University since 1975. SGE performs a wide variety of outreach from helping local boy scouts earn their geology pins to setting up a dinosaur display that Dr. King discovered in 1982. SGE also supports student research, by encouraging students to travel to conferences by reducing costs; last year we sent six graduate students who were all either giving an oral or poster presentation at the National Geological Society of America Conference in Vancouver BC.

SGE also organizes social events including tailgates and the departmental Spring Picnic, where awards from SGE and the American Association of Petroleum Geologists (AAPG) were given to nine students (shown to the left).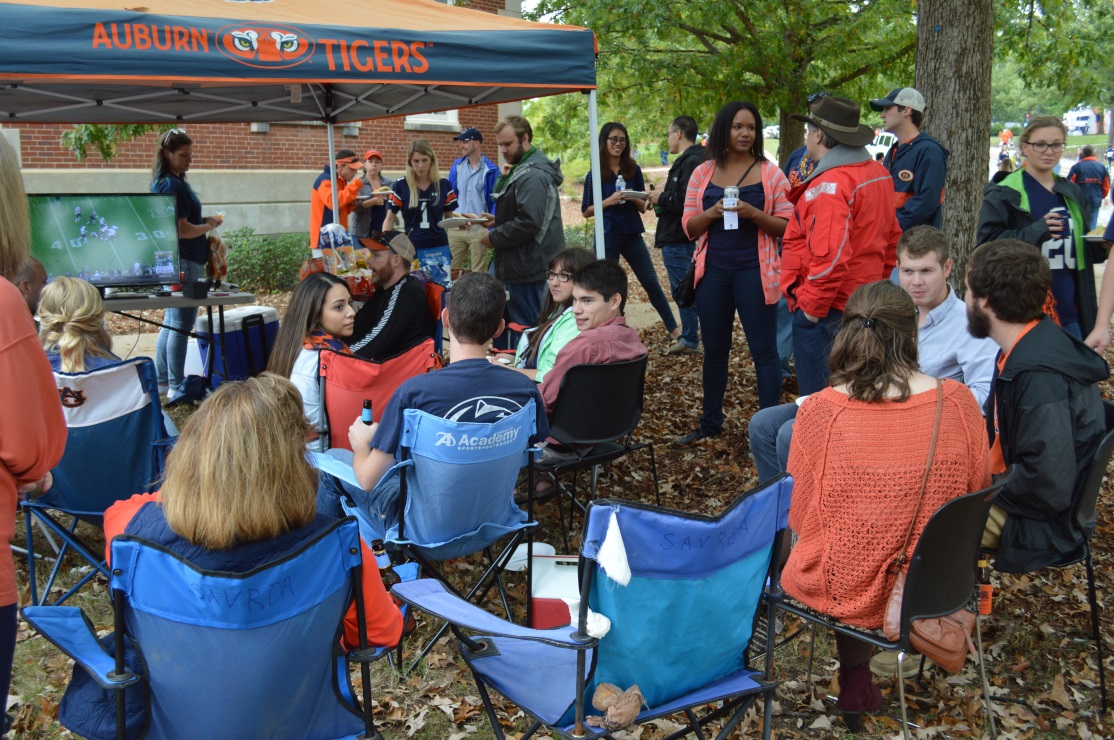 Our tailgates, which take place right in front of Petrie Hall, most recently hosted over 15 Auburn Geoscience Alums for homecoming weekend vs. San Jose State. These tailgates not only encourage departmental bonding, but facilitate meet and greets for members of our advisory board and the students.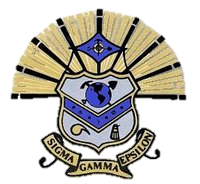 Water EducaTion for Alabama's Black Belt (WET)
Project WET (Water EducaTion for Alabama) provides off-campus environmental and water-education activities designed to increase the appreciation, knowledge, conservation, and protection of water resources by K-12 students and teachers. WET is affiliated with the Auburn University Environmental Institute's (AUEI) Black Belt Environmental Science and Arts Program (BBESAP). The project is structured around a variety of indoor and outdoor activities held at Auburn University 's E. V. Smith Center (EVSRC) in Macon County. The hosting center has easy access to surface water (ponds, wetlands, streams)and groundwater (through nested wells facilities), and offers a facility to hold laboratory setups for basic hydrologic experiments (e.g., aquifer models, permeameter, water quality). In these educational events, students and teachers come to the EVSRC to learn about groundwater flow and its interaction with surface water in an aquifer tank, hydrologic properties (porosity and permeability) of different aquifer materials (sands, gravels, and clays), and ways to assess water quality (water quality probes, testing kits, and aquifer tests). Our ultimate goal is to help this educational audience become knowledgeable about surface water and groundwater so they can identify "safe" aquifer zones, where sustainable, clean water resources are available for long-term development and use. The project is designed and organized by the Department of Geosciences and Environmental Institute of Auburn University, with support from the AU Outreach Program. Click here for more.
Fifteen years of outreach activity and related scientific research at Wetumpka's meteorite impact crater, Elmore County, Alabama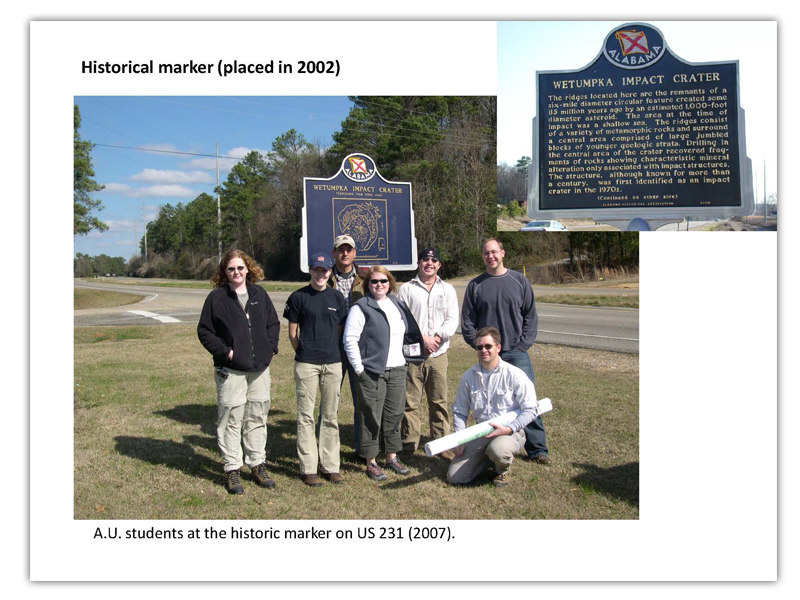 Since 1999, our research on the nature and origin of Alabama's only meteorite crater (located on the east side of the city of Wetumpka in Elmore County) has spawned considerable public and community interest and engagement.  We have worked with Wetumpka community leaders for the past 15 years in (1) leading and developing community-based annual "crater tours" for hundreds of interested persons (including public school students), (2) helping to lay plans for a new interpretative center to be built on US 231 in Wetumpka, and (3) regularly speaking to local, civic, and school groups about the impact at Wetumpka, which was by far Alabama's greatest natural disaster.  In 2002, an historical marker was placed at a site on US 231 in Wetumpka explaining the origin of the crater and citing our work.  Our discoveries at Wetumpka impact crater have stimulated considerable public interest and spurred the formation of a joint city-county "Impact Crater Commission" that oversees economic development of this prominent local feature.  In 2003, the city of Wetumpka commissioned a series of five original oil paintings depicting stages in the formation of the crater, and these hang today in the city hall.  A new city motto is in use today, which refers to the city as being the place "where the star fell" on Alabama.  An episode of APT's Discovering Alabama about Wetumpka impact crater, which is based on our work, regularly airs on pubic television.  Our outreach work has enhanced our externally funded research work at Wetumpka, which has been supported over the past 15 years by corporate entities and federal funding from NASA.  Our externally funded research has established Wetumpka at the 157th known meteorite crater on Earth and one of only about two dozen impact craters known to have formed in a marine environment.  
David T. King, Jr.
Professor of Geology