Dr. Bob Boyd Bridges Two Continents Representing Auburn University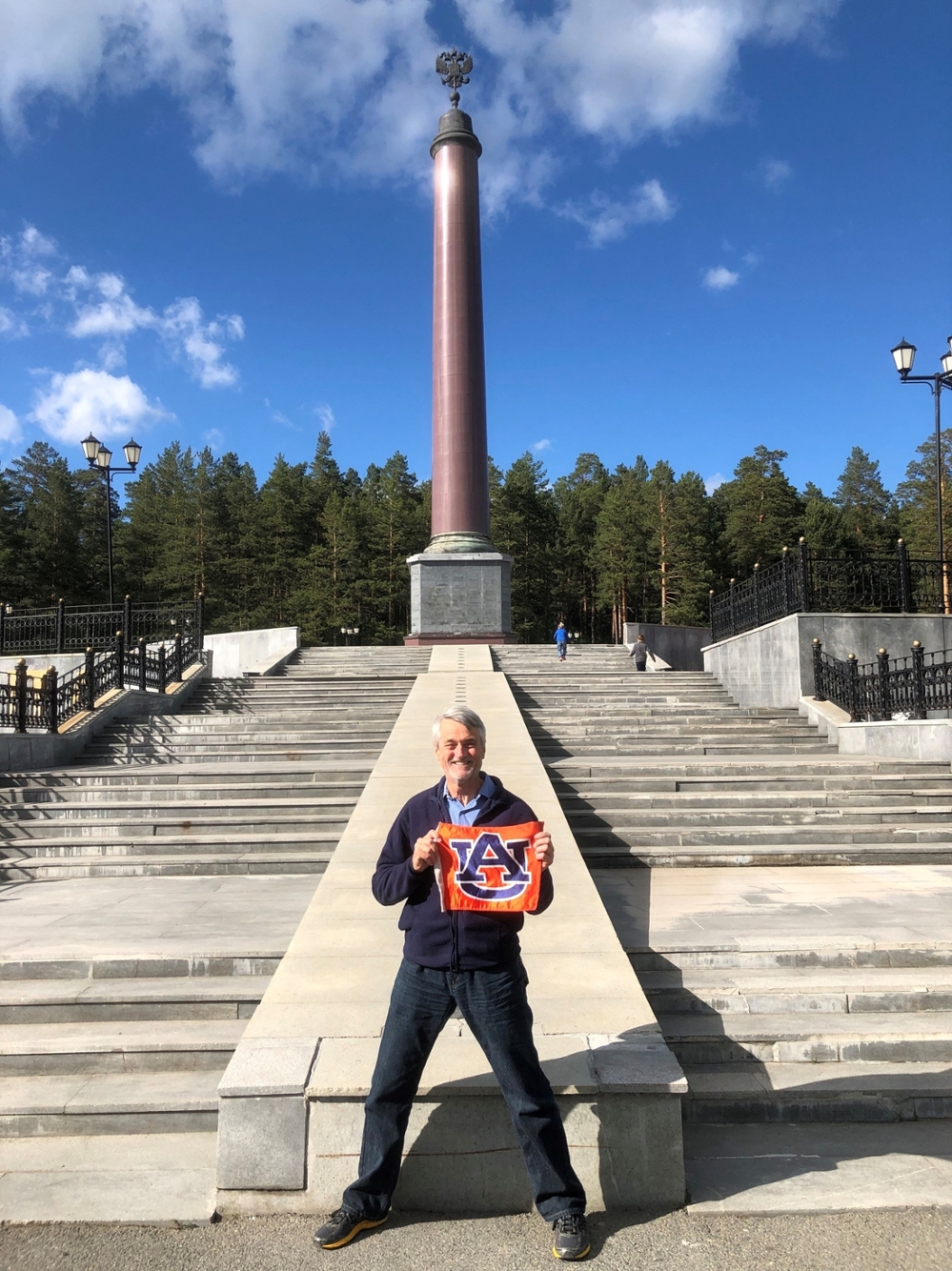 Standing at this obelisk or "Czar" Monument in Ekaterinburg in the Russian Federation, Dr. Robert Boyd has one foot in Asia and one foot in Europe. Although he stands on two different continents in this photo to the right, his career has stood on a solid foundation of science, teaching, and leadership for three decades.
Dr. Boyd, Associate Dean for Academic Affairs, is known in the College of Sciences and Mathematics (COSAM) for his dedication to research on plants that grow in serpentine soils that are uncommon and challenging environments for plant survival.
"It is an honor to be part of an international scientific forum that has given me the opportunity to represent Auburn University around the globe in places such as Cuba, South Africa, Malaysia, Portugal, and now even Russia," explained Dr. Boyd.
In 1986, Dr. Boyd earned his doctorate degree at the University of California Davis. He joined Auburn University in 1988 and attended the first international conference on this research area back at UC Davis in 1991. Since then, he has participated in this group during his entire career.
In the mid-1990s, the group became the International Serpentine Ecology Society (ISES) and sponsors a conference every three years to discuss this topic with scientific presentations, discussions, and field trips.
"In 2004, I traveled to Cuba as part of the organizing committee for the fourth annual International Conference on Serpentine Ecology," he said. "Then, for the fifth through the ninth conferences, I became a member of the Scientific Committee, which advises the organizing committee of each international conference." 
During this June 2019 trip to participate in a Russian/American seminar series regarding serpentine, Dr. Boyd gave a presentation entitled, Exploring nickel hyperaccumulation: A plant elemental defense. He also was able to participate in field work at a biological station in the Klyuchi village and help plan for the upcoming 10th international conference. Dr. Boyd had the opportunity to listen to an array of presentations during the conference, which were given in English, a challenging task for the Russian participants.
Dr. Boyd will return to Ekaterinburg in June 2020 for the 10th International Conference on Serpentine Ecology at Ural Federal University where he will provide a retrospective talk about the accomplishments of this group.
"I am one of only two people who have attended all of the international ISES conferences," shared Dr. Boyd. "I am grateful to be part of this worldwide scientific community and look forward to next year's conference, where I will have the chance to interact with more than 150 international guests from about 30 countries and work on the conference proceedings that will leave a legacy for our field."
With three decades of teaching students, sharing information with the scientific community, and conducting research on serpentine soils, Dr. Boyd firmly stands as a leader in his field and a proud representative of Auburn University throughout the world.