About
Celebrating 20 years of arts and engagement in 2023, the Jule Collins Smith Museum of Fine Art at Auburn University is the cultural heart of an Alabama public research institution. Centered within the university's intellectual life and the fluid exchange of ideas, the museum welcomes co-learners—particularly faculty and students across disciplines—to explore the visual arts. Collection strengths include American modernism, stemming from the university's 1948 purchase of 36 works from the U.S. State Department exhibition, "Advancing American Art," intended to promote freedom of expression post-World War II. The original acquisition includes works by women, immigrants and artists of color, such as Romare Bearden, Yasuo Kuniyoshi, Jacob Lawrence and Georgia O'Keefe; guided by that precept, the museum actively acquires, exhibits and commissions work by historically underrepresented artists to expand cultural narrative and scholarship. Other highlights include Southern visionary art, works on paper depicting the South, Audubon etchings, contemporary prints and photographs, Mexican modernism, pottery and ceramics.
Museum admission is free. The museum is housed in a striking modernist building that features changing exhibition galleries, a café, a store, extensive grounds and landscaped walking paths dotted with sculpture.
Contact Information
Jule Collins Smith Museum of Fine Art, Auburn University
901 South College Street 
Auburn, AL 36849
(334) 844-1484
jcsm@auburn.edu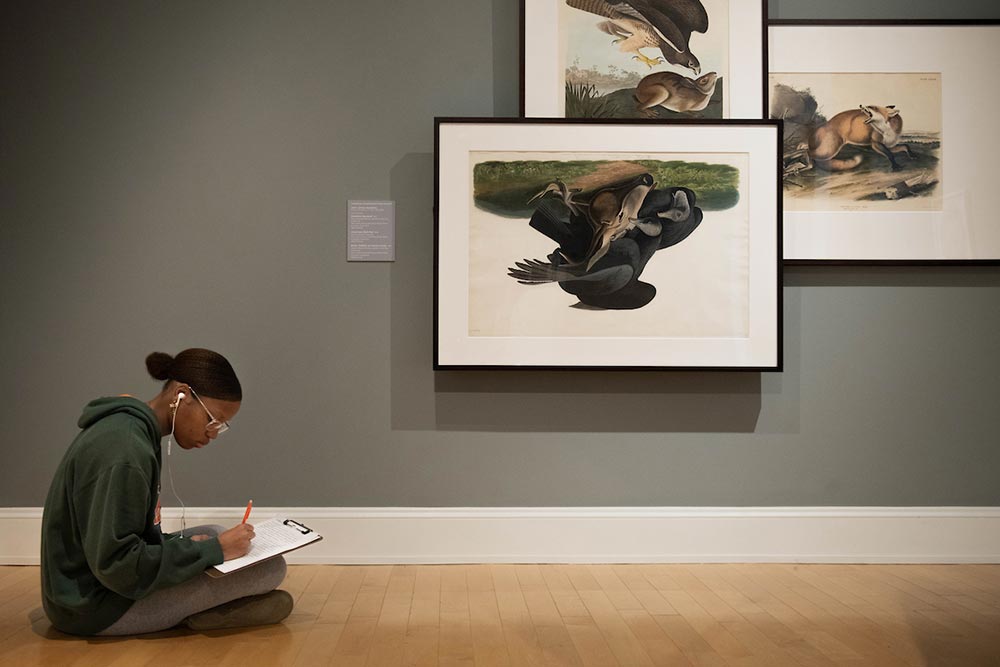 Web Resources
Directions
The museum is located at the intersection of South College Street and Woodfield Drive.
From I-85 take Exit 51 and turn north onto College Street. Continue north on College Street for 2.56 miles.
Turn right into the entrance of the museum and follow circular drive around to parking lot.
A drop-off point is available at the museum entrance. The museum is handicap accessible.