Beginning fall 2023, Auburn University is engaging in a comprehensive process to develop a visionary and transformative strategic plan to be launched in 2024. Our commitment to excellence in teaching and learning, impactful service and outreach, and delivering exceptional research and discovery are the ethos of our mission and serve as the foundation for our next Strategic Plan. By engaging stakeholders inside and outside our institution in a robust planning process, we will "Focus on our Foundations" by identifying new approaches that advance Auburn University's role as a global leader in higher education and strengthen our position among land-grant institutions.
Building on the success of the university's 2019-2024 Strategic Plan, Auburn will initiate an inclusive and exhaustive process that fosters ample opportunities for input from the Auburn Family, our constituents, and the communities we serve. Co-chaired by Provost Vini Nathan, Dr. Kerry Inger, and Dr. Hari Narayanan, the planning committee will work to cultivate goals and strategies to improve the quality of instruction, research, extension, and outreach while advancing our administrative operations.
As we strengthen our core goals of providing an exceptional student experience, delivering impactful research and scholarship, and fulfilling our commitment to innovation and excellence, we will also articulate goals and strategies that reimagine our campus as a flagship R1 university.
Planning Timeline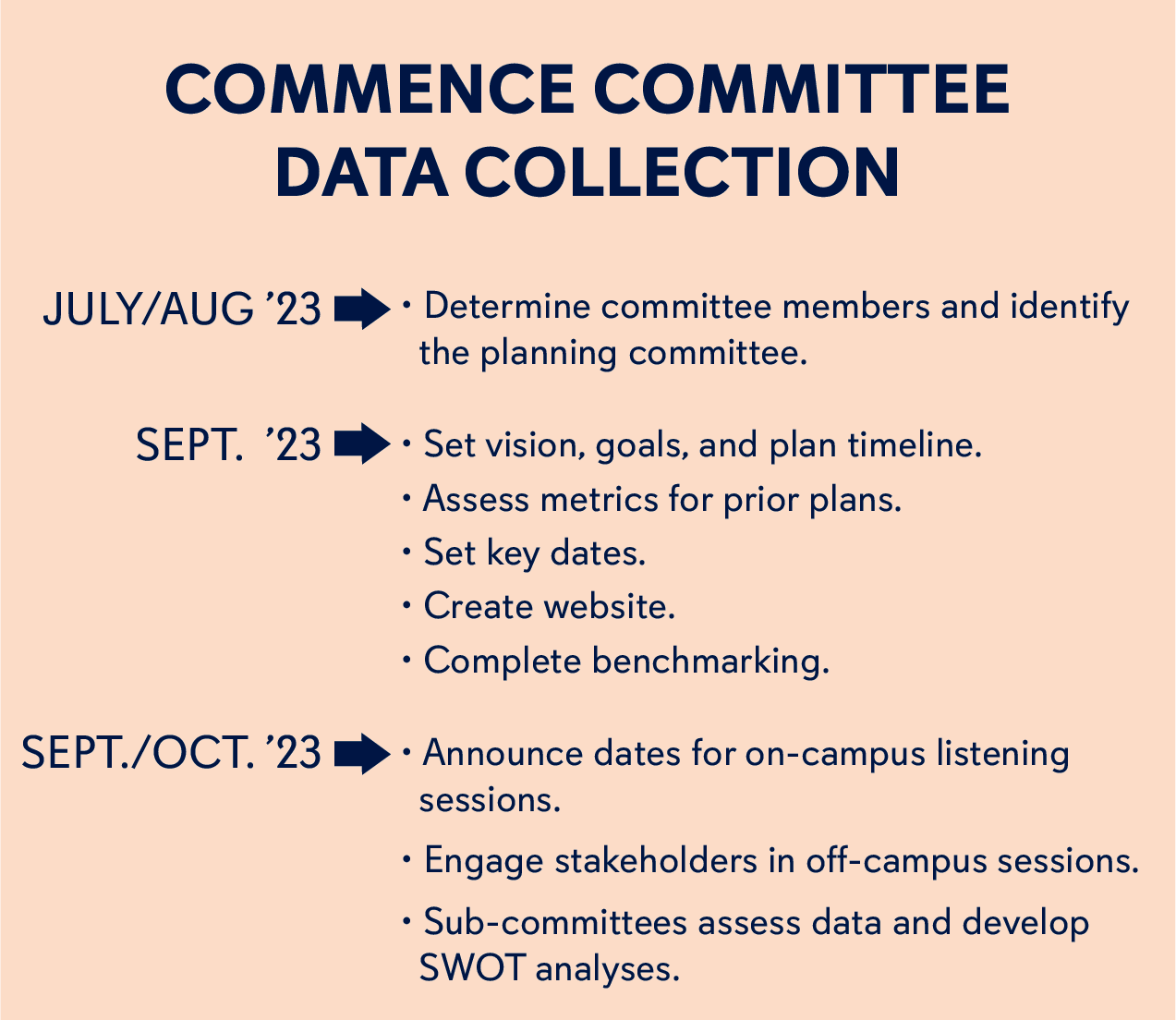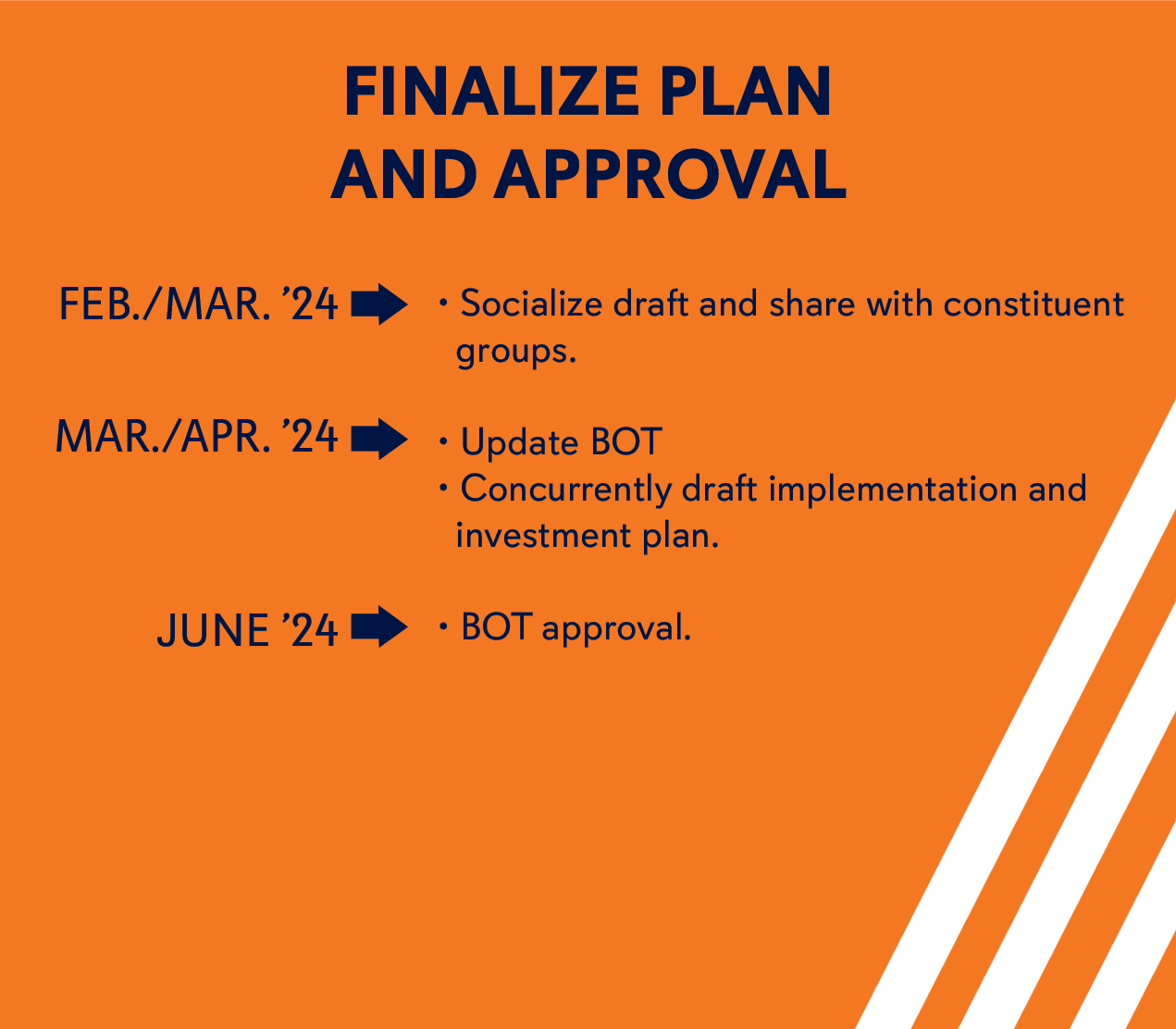 Stakeholder Engagement
Throughout the Strategic Planning process, members of the campus community will be invited to submit thoughts and ideas to support Auburn's Strategic Planning efforts through one or more of the following opportunities:
On-Campus Listening Sessions:
The on-campus listening sessions have concluded. In October, members of the campus community were invited to participate in several listening sessions. Open to faculty, staff and students, the hour-long sessions were an opportunity to provide constructive feedback on key questions about Auburn's future. We thank you for your participation.
Statewide Listening Sessions:
Held in each of Alabama's legislative districts, the university will engage alumni, industry leaders, parents, extension faculty, and other members of the Auburn Family in listening sessions to provide insights and perspectives that are invaluable to shaping Auburn's future.
Throughout the fall, Auburn will be engaging members of the Auburn Family through a series of scheduled listening sessions in various cities across Alabama. Identified participants will be invited to attend the sessions. Stakeholders interested in sharing ideas and thoughts may reach out to auplan@auburn.edu for more information on how.
White Papers:
The Auburn Family is invited to submit a "white paper" describing a strategic initiative you believe warrants consideration as part of the strategic planning process. White papers may describe new activities or those already underway. Submissions are due Jan. 15, 2024 and must be strategic in nature and align with Auburn's mission and vision. 
Strategic Planning Committee
To lead Auburn's planning efforts, a 26-member strategic planning committee has been identified to help facilitate our process and engage members of the campus community and beyond. Representing diverse areas of campus, the committee will work alongside our institution's stakeholders to identify strategic areas of emphasis and gather diverse perspectives. In addition to the committee, members of Auburn's campus community will have ample opportunity to provide their ideas, thoughts and feedback to the plan.
Presidential Vision
Auburn University's strategic plan will build on President Roberts' vision for Auburn University, articulated during his installation as Auburn's 21st president in April 2023.