Auburn University Young Professionals
Overview
Auburn University Professional and Continuing Education is proud to partner with the Office of Information Technology to present Auburn University Young Professionals.
Auburn University Young Professionals (AUYP) aims to provide an opportunity for connection between upper level administrators and the young professionals of Auburn. During our free one-hour interactive programs, young professionals will have a chance to hear the stories and advice of those in influential positions across campus. Attendees will also be provided the opportunity to submit questions for the speaker in advance or ask their own during the program. This series will focus on providing professional development, networking amongst peers, and collaboration of resources across Auburn University.
AUYP programs are offered at no cost to attendees. We do ask that you register for the event to ensure proper meeting space.
---
Upcoming Programs
May 30, 2023 | 1 – 2 P.M.
Discussion Panel with Mike Clardy, Amanda Malone, and Corey Edwards
Mike Clardy
Director of Communications and Marketing, Alabama Cooperative Extension System
Mike Clardy is the director of communications and marketing for the Alabama Cooperative Extension System, a position he has held since July 2022. In his role, Mike develops strategies for increasing visibility and boosting the reputation of Alabama Extension.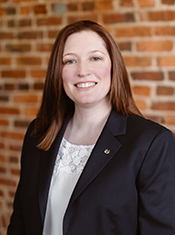 Amanda Malone
Director of Budget and Human Resources, Office of the Provost, Auburn University
Amanda Malone, director of Budget and HR, oversees compliance and supports academic fiscal and human resources decision-making. Amanda joined the Provost's Office in 2014 as the Special Assistant to the Provost for Budget Management. She became the Director of Budget Services in 2017, where she served as the liaison to all academic units and as an advisor to the Provost on current fiscal policies, budgetary requests, and financial strategic planning.
Corey Edwards
Assistant to the Senior Vice President for Student Affairs, Auburn University
Corey Edwards serves as the Assistant to the Senior Vice President for Student Affairs at Auburn University. This position is responsible for providing strategic leadership and direction to multiple Student Affairs departments including Communications and Marketing, Parent and Family Programs, and the Melton Student Center.
---
Past Programs
Last Updated: May 12, 2023