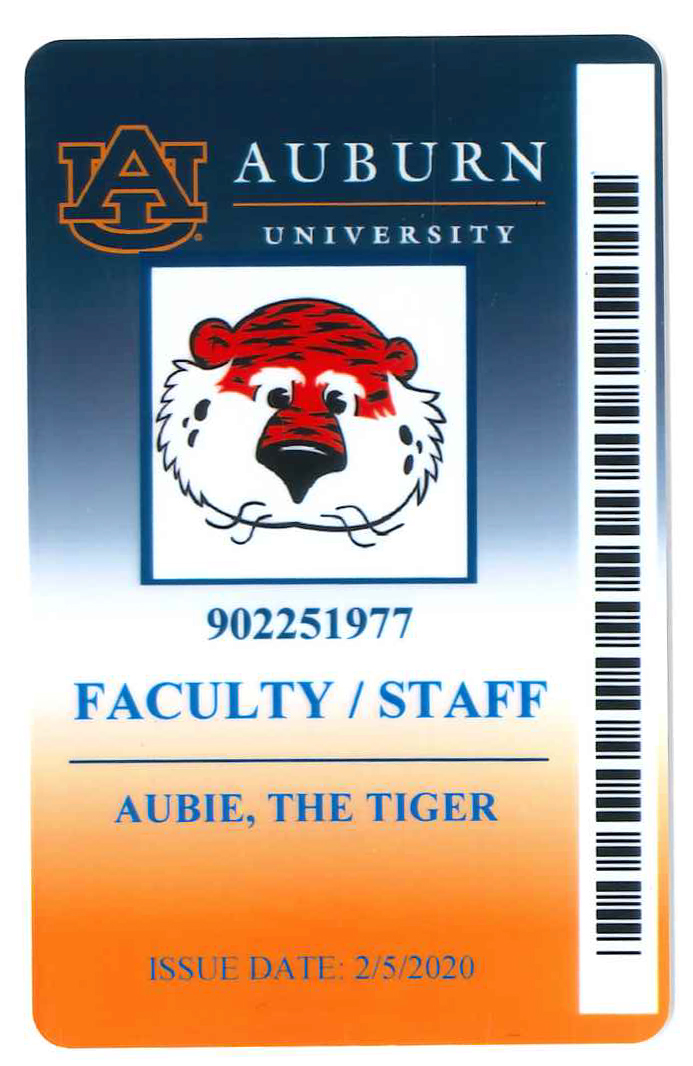 The Auburn University ID card is the official identification document for Auburn University faculty and staff. It is used as an official university identification document and permits access to buildings. It is used for access to campus job-related buildings, the Aquatic Center, Campus Recreation and The Ralph Brown Draughon Library. 
Obtaining An Auburn University ID
Employee ID Card Services (EICS) requires U.S. citizens and lawful permanent residents (LPR) to provide a valid government issued photo ID such as a driver's license, passport or military ID. 
Foreign nationals should call EICS at 334-844-4386 to ensure they have been approved by the appropriate Auburn University office(s) to receive AU credentials. In addition, all AU-sponsored foreign nationals must first go to the Office of International Programs (OIP) prior to coming to the EICS office. EICS will not be able to process any foreign national without proper authorization. 
Faculty and staff may receive their ID by visiting the Onboarding Center, located at 1530 East Glenn Ave. Our hours of operation are Monday-Friday, 7:45 a.m. - 4:45 p.m. This office will be closed on all official Auburn University holidays.
IMPORTANT: If you are looking for information on student ID cards, visit the Tiger Card website.
Common Questions
There is no charge for faculty, staff and temporary employees (TES).

There is a $25 charge for community cards.

The sponsoring department will submit an Access Request form in order for the ID to be granted for the following card types

Rec & Wellness

Library

Minster

Aquatics

Osher Lifelong Learning Institute (OLLI)

Alumni
Forms of payment accepted: Debit, credit, cash ($25 exact) or payroll deduction (where applicable)
No. University members are only permitted to hold one ID card based on their primary role.

Individuals currently registered as a student should obtain a Tiger Card. Any access allotted to student employees will be loaded to their TigerCard for employment purposes.

Students may receive their Student ID by visiting room 261 in Foy Hall, Monday-Friday, 7:45 a.m. - 4:45 p.m. This office will be closed on all official Auburn University holidays.

For information on obtaining a Student ID, email tigercard@auburn.edu or call 334-844-4507.
Contact Us
Address: 1530 E. Glenn Ave., Auburn, AL 36849
Phone Number: 334-844-4386
Email: employeeid@auburn.edu
Office Hours: Monday - Friday, 7:45 a.m. - 4:45 p.m.