Tanzania Civic Education Service-Learning
Join Outreach Global on its 12-day Civic Education Service-Learning Program in Tanzania that will explore the country's rich and multifaceted history.
Through a combination of immersive experiences and educational activities, you will gain a profound understanding of Tanzania's historical significance, including its role in the transatlantic slave trade. You will visit museums and cultural sites that offer insight into the nation's complex past. Additionally, you will have the opportunity to volunteer with an educational nonprofit and work with underserved students in local vocational schools. Other activities include a day trip to Zanzibar and an optional safari tour in one of Tanzania's vibrant national parks.
This adventure promises to be both enriching and rewarding, offering you the opportunity to connect with the local community, immerse yourself in Tanzania's history and culture, and make a meaningful difference in the lives of underserved students.
Opportunities:
Visit educational and cultural institutions
Volunteer with a local educational nonprofit
Tour historical sights and monuments
Travel to Zanzibar on a day trip
Participate in an optional safari tour
Become immersed in Tanzanian culture!
Application Deadline: January 31, 2024
Commitment Deadline: February 14, 2024
---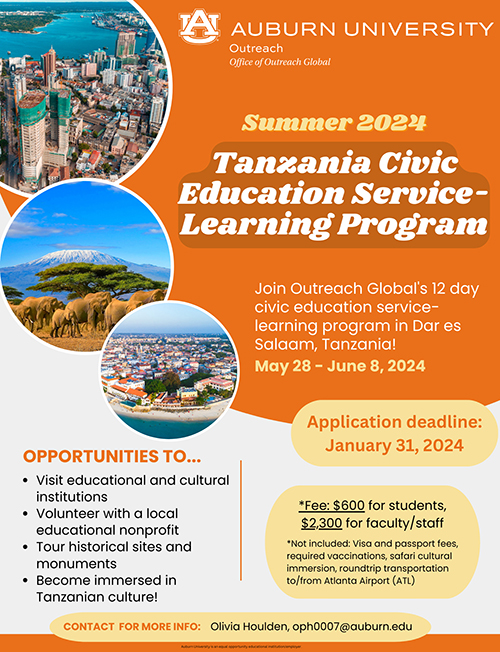 This program is largely sponsored by the Office of the Vice President for University Outreach (VPUO). VPUO will cover the following:
Most expenses including hotel, in-country transportation, and meals.
Other Expenses:
Students will pay a $600 application fee through the program's Auburn Abroad portal. This amount will go towards the following:

Program logistics
Participation certificates
Water



Students are independently responsible for the following:

Flight
Visa and passport fees
Vaccination fees (including malaria and yellow fever)
Optional cultural immersion (safari tour)
Roundtrip transportation to and from Atlanta airport and Auburn



Faculty and staff are responsible for paying $2,300 directly to Outreach Global. This amount covers the following:

Program logistics
Hotel
Welcome and Farewell Dinners
In-country transportation
For more information contact:
Last Updated: November 15, 2023