Big savings for AU and AUM employees!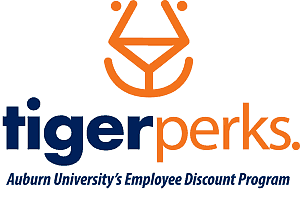 Tiger Perks is a discount program where Auburn University and Auburn Montgomery employees can receive substantial savings from dozens of local and national merchants! In many cases, an employee only needs to show their valid AU identification to receive the discount.
Tiger Perks are available to all full-time and part-time University employees with a valid Auburn or AUM ID. The program is administed by Auburn University Human Resources.
AU Alumni Association
Did you know that the AU Alumni Association offers special discounts to AU employees, ranging from half-price annual memberships to $200 off life memberships? Click here for more information!
Businesses wanted!
Tiger Perks is a terrific way for local and national businesses to spotlight their employee discount to thousands of AU employees. There is no cost for the business or the employee to participate. Additional information
Important: Auburn University does not endorse, warrant, or verify the information provided on this website. Any issues related to transactions that take place as a result of information provided are between the individual employee and the organization providing the discount. If you have difficulty receiving the discount, please notify our office.
Arts, Athletics, and Entertainment
| Vendor | Discount | How to Redeem |
| --- | --- | --- |
| Chirp (audio books) | $5 off first audiobook | Promo code "Auburn5" |
| Dollywood (NEW!) | Special savings for one-day passes | Access through the UHR website. (AU login credentials required) |
| | 10% and no service fees | Promo code "EDU10" |
| | 20% | Promo code "TIGERPERKS" |
Automotive Services
| Vendor | Discount | How to Redeem | Contact/Other Info |
| --- | --- | --- | --- |
| | New memberships are $42 | Contact Julie Barks at (205) 777-7598 or email  | AU employees can join AAA for $42 for three Classic new memberships with auto pay. Additional discounts for Plus and Premier memberships. |
| | 5% | Promo code "take5vip" |   |
| | Up to 25% off base rates | Promo code "D134100" | Call (800) 331-1212 |
| | Up to 25% off base rates | Promo code "Z408900" | Call (800) 455-2848 |
| | Same corporate rate as the University | Click here or use code XZ78990 |   |
| | Up to 25% off base rates | Promo code "1742729" | Call (800) 654-2210 |
| | 5% | Promo code "take5vip" |   |
| | 5% | Email moparorginalparts.marketing@gmail.com for additional information. |   |
| | 10% | Promo code "Auburn10" |   |
| | 5% | Promo code "5off" | |
| | 30% discount on car rental insurance | Email from your auburn.edu address to receive a coupon code.  | Only applies to domestic trips due to government regulations. |
| | 10% discount on vehicle shipping | Receive online quote; provide AU identification at checkout | |
| | 5% | Promo code "take5vip" |   |
| | $10 off a case of FPPF fuel additive products | Call Ned Nazzaro at (703) 627-2737 | Limit three cases |
| Volvo Dealers Accessories (NEW!) | 5% | Email the vendor for the discount code. |   |
Business, Finance and Development
| Vendor | Discount | How to Redeem |
| --- | --- | --- |
| | 15% off all business and personal translation services | Promo code "Aub15" |
| | 10% | Promo code "AUBURN10" |
| GTE Localize (NEW!) | 15% | Promo code "GTELOCALIZE15" |
| | 12% | Promo code "UNISAVE12" |
| Guaranteed Rate (mortgage services) | $1,290 waived lender fees | Use the special website. |
| | 10% | Send valid AU ID via email to pm@ivannovation.com.  |
| | Special options for buying, selling, and refinancing | Visit the website or call (800) 921-3166. |
| | 20% | Promo code "MemberSave" |
| | 20% off social media management | Call 561-832-6262 and mention the discount code "THATcollegediscount" |
| | 10% | Promo code "GIFT2021" |
| | 20% | Promo code "AUsave20" |
| | 10% | Promo code "Studentlife10" |
Flowers and Gifts
| Vendor | Discount | How to Redeem | Contact/Other Info |
| --- | --- | --- | --- |
| | 15% | Promo code "Tigers15" | |
| | 20% | Promo code "TIGER20" | Call (727) 823-9500. The discount is available for this personalized jewelry and customized gifts site as well as www.stickyj.com for medical ID bracelets.  |
Health and Recreation
| Vendor | Discount | How to Redeem | Contact/Other Info |
| --- | --- | --- | --- |
| | 10% | Promo code "TIGERPERKS" | |
| | $50 off one-year membership | Promo code "WELCOME50" | |
| | $5 off CPR class enrollment | Promo code "AUTIGR" | Call (877) 242-2527 or email |
| | 10% off all scar prevention products | Promo code "WELCOME10" |   |
| | 15% | Visit https://grandecosmetics.com/pages/id-me and follow the instructions. |   |
| | 10% | Email support@hydragun.com from your AU email address or with a soft copy of your AU ID to redeem a unique promo code. | |
| | 25% | Use the discount code SHOP25 | Call (888) 896-3885 |
| | 15% off night guards, athletic mouthguards, teeth whitening and more | Promo code "AUBURN15" | |
| | 10% | Promo code "student10" | |
| | 5% | Promo code "War Eagle" | |
Home and Garden
| Vendor | Discount | How to Redeem | Contact/Other Info |
| --- | --- | --- | --- |
| | 15% | Click the link. | |
| | $250 off any order over $3,000, or 10% off any order | Email brook.h@audaciahome.com for more information. | |
| Copperlly (NEW!) | 10% | Promo code "AUBURN" | |
| | 2% off power equipment; 10% of security systems | | |
| | 15% | Promo code "AZFOP15" | |
| | 10% | Discount code "NKB10" | |
| | 5% | Promo code "AUBURN5" | |
| Starwhip (NEW!) | 10% | Promo code "AUBURN 10" | |
| | 20% off of all cabinetry purchases and free kitchen design assistance | Promo code "UDC20"; university ID required | |
| | 30% off list pricing | Submit proof of AU or AUM employment | |
| | 15% | Promo code "Aburn15" | |
Lodging
| Vendor | Discount | How to Redeem |
| --- | --- | --- |
| | Up to 40% off selected hotels | Use the link |
| | Up to 40% off selected hotels | Use the link |
| | 10% off selected hotels | |
| | 20-57% off regular price membership | Enroll online. You will need to provide valid AU ID. |
| | Up to 10% | Submit a copy of AU identification at checkout |
Pet Supplies and Insurance
| Vendor | Discount | How to Redeem |
| --- | --- | --- |
| | 15% | Promo code "SCHOOL15" |
| | $10 off $100 purchase  | Promo code "10off" |
| Spot Pet Insurance (NEW!) | Up to 20%  | Click the link.  |
| | 10% | Call (714) 907-0682 or email |
Printing, Shipping and Signage
| Vendor | Discount | How to Redeem |
| --- | --- | --- |
| | 10% | Promo code "AUBURNUNI10" |
| | 10% | Promo code "TIGER10" |
| | 15% | Promo code "AUBURN15" |
| | 15% | Promo code "EDU15" |
Retail and Shopping
Vendor

Discount

How to Redeem

15%

Promo code "Toys-15-4-Aubie"

15% off $100 orders

Promo code "AUBURN"

15%

Promo code "ANUENT15"

BluShark (premium watch bands)

15%

Promo code "SAVE15"

10%

Promo code "EXTRA10"

Varies by brand

Click the link.

7 percent scholar discount and free shipping; price match guarantee

Promo code "AuburnDiamonds"

15%

Promo code "AUBURN15"

20%

Promo code "Student20"

15%

Promo code "TIGERS15"

20%

Use your auburn.edu email.

$10 off

Promo code "OFF10"

10%

Proof of AU identification or email address

10%

Promo code "AU10"

15%

Promo code "AU15OFF"

40% off new membership

Use the link.

$15 off plus free shipping

Promo code "AU15"

25% plus free shipping

Promo code "College25"

15%

Promo code "AUBURN15"

15% off any home gym package

10% off 2'x5' workout mat

Buy a pair of sliders, get a large slider at 50 percent off 

Use promo codes "AUPKG15" (home gym), "AUWM10" (workout mat), or "AUBOGOLS" (sliders)
Technology
| Vendor | Discount | How to Redeem | Contact/Other Info |
| --- | --- | --- | --- |
| | Offers on many products | | There are restrictions on certain products, brands, and unilaterally priced items may apply.  |
| | Various discounts | Click on the website |    |
| | 5% discount | Promo code: 5OFFNEW |   |
| | Special employee pricing  | Click the link.  |   |
| | Special employee pricing | Click the link. |   |
| | Wholesale pricing | | |
| | Various discounts | Use the registration code "WAREAGLE" | |
| | $10 monthly discount off 2 lines (Magenta Plus) | auburn.edu email address or paystub | |
| | Various discounts | Enter Auburn email address online or show Auburn ID in store  | |